HOW VBUZZER WORKS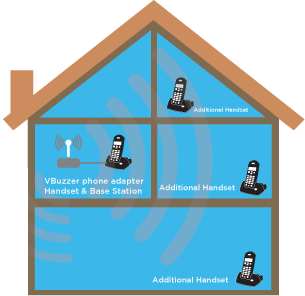 VBuzzer works over your internet connection. We route your phone calls over your existing internet connection, instead of your phone line, with our adapter. But, even though your phone uses the internet while you're making a call, your computer is not needed, so turn it off or use it as you would normally.
The people you call do not need to be VBuzzer members or use our services for you to call them. All they need is a regular phone, and all you have to do is dial. To call your new VBuzzer line, all you have to do is provide your phone number, and your contacts dial as usual. Simple.
Don't forget, VBuzzer calling between our members is always free, regardless where they are located in the world.
REQUIREMENTS FOR USING VBUZZER
A high-speed Internet connection whether cable, DSL or Fiber broadband
A regular (analog) telephone handset (cordless phones recommended)
A Canadian or US civic address (no PO boxes)
A VoIP (ATA) phone adapter - the device that connects your broadband internet to your telephone handset
HOME PHONE ADAPTERS
VBuzzer uses an adapter to deliver reliable home phone service over your high-speed internet connection. All you need to do is purchase a VoIP (SIP) phone adapter (you may purchase one from VBuzzer or bring your own). This creates a link between your internet router and your regular telephone. The adapter then allows you to use VBuzzer services via your high-speed internet connection. With a VoIP adapter from VBuzzer, installation is super-easy— just plug your phone line and internet cable into the pre-configured VoIP adapter and you're done!

See information on how to configure other adapter models for use with VBuzzer in our 'FAQ' Section.